About Sendero Commercial Roofing

Sendero is a commercial roofing company with more than 100 years of combined roofing experience.  Our team is available 24/7 nationwide to service your roofing needs.  Our services include all forms of commercial and multi-family roofing.  Sendero's mission is to exceed our customers' expectations by providing the highest quality, innovative roofing solutions with on-time results and minimal impact to our customers' day-to-day operations.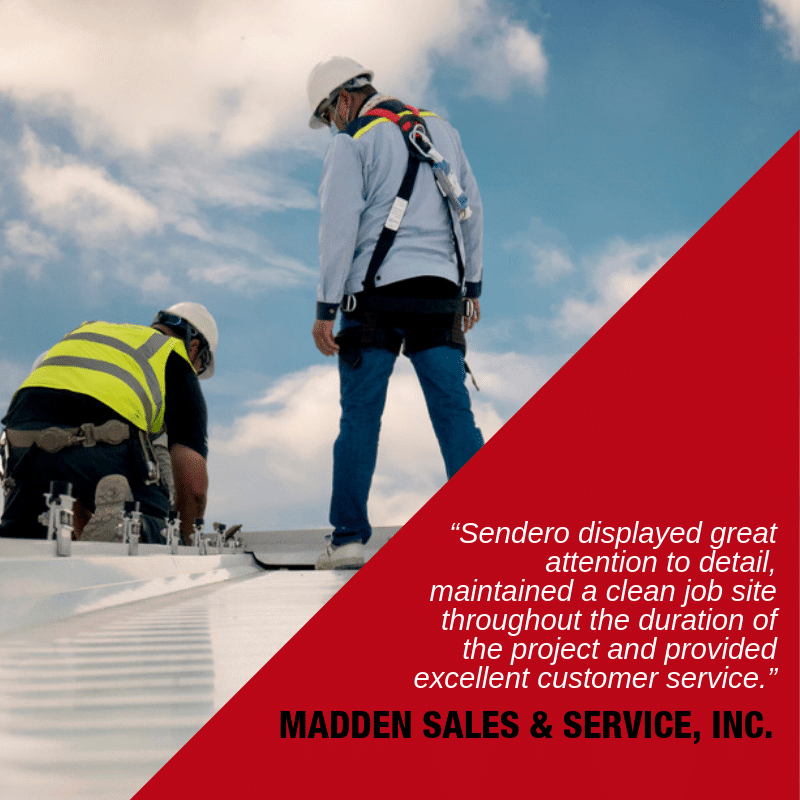 Sendero Commercial Roofing's team has a high degree of roofing expertise across a broad spectrum of roof systems.  Our commitment to quality work, customer service, and professionalism is the foundation of our business.  Our years of experience, combined with innovative thinking, are essential components of our success.
Sendero is a proud member of the National Roofing Contractors Association ("NRCA"), one of the construction industry's most respected trade associations.  They are devoted to securing the future strength and quality of the roofing industry.  The NRCA standards of excellence are what we have used to stay on the forefront, as the commercial roofing industry evolves and advances.
Our team of dedicated professionals will walk you through the process of making an informed decision for your commercial roofing needs.  It is important to us that every roof we build meets your company's specific needs and expectations.  We will keep you informed at all points throughout the project.  We have a track record of being a trusted, reliable commercial roofing company providing unparalleled service and quality work.  Complete insurance, secure bonding, and comprehensive warranty options are extra assurances that stand behind our work.
At Sendero Commercial Roofing, we succeed because our goal is to treat our clients like partners.  We hire only the most exceptional people, and always do the right thing.  Let us partner with you for your commercial roofing needs.